His sweetly tender film from Japanese director Hirokazu Kore-eda is unassuming and unforced, celebrating the best thing about nature and family love and discreetly discovering fine notes of confidence and affirmation. It's watercolour film in the classic "family play" vein which you may connect with Yasujirô Ozu, with nothing watery about it, last year, though in dialogue at Cannes – where I saw this – I was told by the director his motivation was more Mikio Naruse.
Sachi (Haruka Ayase) is a nurse in the neighborhood hospital: lovely, poised but emotionally frozen, unhappily in an affair with a married physician. She's lately been offered promotion, which will mean working in the terminal ward – totally reasonable of rewarding and honourable the occupation is, but unhappily conscious of it being threatening for her.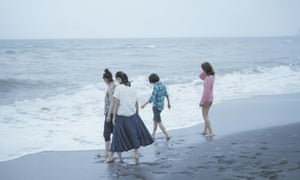 All three have been estranged from both parents. Their dad left them to live with another girl, with whom he had a kid before continuing forward to wife number three. Their mom walked out, also, leaving them in young adulthood in your family house. However, when they receive news of the dad's departure and visit the funeral, they meet their sweetly capturing adolescent halfsister Suzu (Suzu Hirose) and determine on the spot that she must return and dwell together.
Their little sister that is new is a complex wonder in their own lives: they are diverted by her, pleases them, nearly just like a grownup smasher. She's happy in her new house, unusually well adjusted and happy at school. They love looking after her and adore Suzu; she gives them a fresh form of private direction as well as a fresh purpose in life, and her existence reminds them of their particular orphaned scenario smashers in a slowly decreasing wood in their very own making, and weirdly infantilised existence. Suzu might really be making this worse. Before she showed up, they were becalmed and stagnant. Are their lives going back?
This is a lavishly satisfying picture, bringing in the timeless vision in the Japanese provincial family play: discussions linking food and family, group meals, and rural train journeys, bucolic that are thoughtful walks uphill – denoting humility and patience – melancholy funerals and a few excellent seasonal compositions.